If you are preparing for your upcoming wedding, then we recommend including ballroom dancing lessons for your big day. Traditionally, most couples perform a first dance five to ten minutes after the dinner has been completed at the wedding reception. Additionally, a father/daughter dance and a mother/son dance is also performed in the reception. With so many dances to perform, you might feel a little nervous. The Modern Ballroom Dance Studio in Woodbridge is here to calm your fears by preparing you for your big day. We understand how pricey wedding planning can be, but we definitely recommend taking ballroom dancing lessons to prepare for your wedding dance. Here are some reasons why ballroom dancing lessons are a good idea for your big day:
Confidence
Learning dances such swing dancing, the foxtrot, or the waltz can feel like somewhat overwhelming at first. However, you and your partner will begin to feel much more comfortable with the choreography once you've practiced it regularly. By the time you've hit the dance floor, the foxtrot might feel like second nature to you and your partner.
Learn to Improvise
In wedding ballroom dance classes, you learn lots of choreographed dances that will also help you improvise on the dancefloor as well. After you've performed your rehearsed dance, chances are that you will still be out on the dance floor with your friends and family. By taking ballroom dance lessons, you will feel more graceful and confident on the dance floor, even if you think you have two left feet.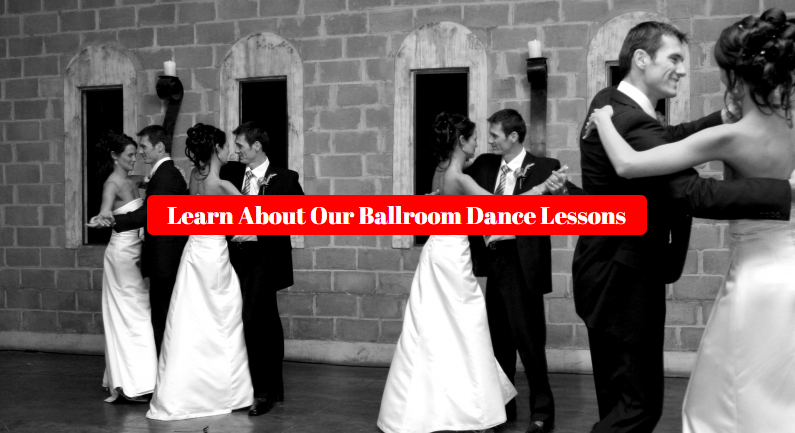 Blow Off Steam
Wedding planning can be a nightmare, so you and your partner may end up looking forward to dancing it out during our ballroom dance lessons. Dance is a great stress reliever, and you will get a great workout during your dance classes to boost your endorphin levels.
Quality Time Together
With all the tasks that need to be accomplished before your wedding, you may feel like you don't even see your partner all that much. Adult dance classes are a great way to spend some one-on-one time with your partner with no distractions. Dancing together is a way more engaging activity than watching TV together. Ballroom dancing heavily relies on communication through body language, so you may even find that you and your partner are able to better communicate following ballroom dancing lessons.
Learn Which Style You Like
If you do an online search of ballroom dances for weddings, you will find a variety of different types of weddings. Some of the different dance styles include the Paso Doble, the Waltz, the Cha-Cha, the Mambo, the Rumba, and so much more. When you take ballroom dance lessons, you are able to find the style that works the best for you and your partner. This ensures that you and your partner have as much fun during your wedding dance and that you look great.
If you would like to take ballroom dance lessons in Woodbridge, then contact the Modern Ballroom Dance Studio today to get started. We recommend that the earlier you come in for your lessons, the better.